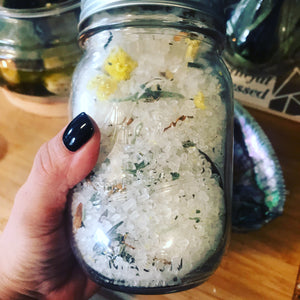 PREMIUM BATH SALT MIX INGREDIENTS:
FLOR IMMORTAL FLOWERS
LAVENDER LEAVES
L'ORANGE PETALS
BOKEK DEAD SEA SALT
EPSOM SALT CRYSTALS
DO TERRA LAVENDER ESSENTIAL OIL

Bokek Dead Sea Salt contains 10 times more minerals than ordinary sea salt, minerals which assist in cleansing, detoxifying, and restoring a healthy status quo to the body, especially the skin and muscles.

Minerals and Naturally Occurring Chemicals Found in the Dead Sea:
Sulfur is necessary for the secretion of bile from the liver and for converting toxins into non-toxins. Sulfur is found in the amino acids cysteine and methionine; as well as in cells, hemoglobin (of the blood), collagen (of the muscles), keratin (required for skin), insulin, heparin, biotin, and co-enzyme A (required for healthy hair, skin, nails, among many other biological structures). Sulfur is necessary for synthesizing collagen. It is required for the adequate digestion and absorption of carbohydrates and a number of vitamins, such as thiamin, biotin, and pantothenic acid. It is also essential to enabling cells to breathe.

Iodine is necessary for the production of the hormone thyroxin, and is also vital for both energy and cell metabolism.

Potassium is necessary to maintain the water balance in order for cell metabolism to take place, assisting the cells to absorb nourishment and expel waste products. An imbalance in potassium often leads to water retention. Potassium also plays a vital role in regulating muscle contractions and the nervous system.

Sodium, like potassium, plays a vital role in assisting the cells to absorb nourishment and expel waste.

Calcium is necessary in strengthening cell membranes and cleansing the pores. In addition, it is vital for production and maintenance of healthy teeth and bones, together with regulating the heart muscles and nerves.

Magnesium is necessary in assisting the body to utilize other essential nutrients and in cell metabolism.

Bromine helps with the natural repair of the body together with cell metabolism and can be used as a natural antibiotic.

Skin Conditions and Bokek® Dead Sea Salt:
ACNE
AGING & SKIN PROBLEMS
ARTHRITIC DISORDERS
ATOPIC DERMATITIS/ECZEMA
CELLULITE
DANDRUFF
DRY SKIN
GENERAL STRESS
HAIR LOSS
INSOMNIA
PSORIASIS
SKIN
SKIN ALLERGIES
SKIN PROBLEMS
WRINKLING


SKIN ALLERGIES:
A range of factors, including age, stress, illness, chemicals, and others, causes allergies on the skin. The high magnesium and bromine content in the Dead Sea Salt is beneficial for anti allergic treatment due to its cleansing and detoxifying of the skin, together with providing smoothness and relaxation. Using Bokek® Dead Sea Salt is recommended for relief of allergic symptoms affecting the skin.

SKIN PROBLEMS:
Skin problems are a common aspect of the aging process throughout the spectrum of human development. Certain skin problems affect people at different stages of development and for each it is important to support and nurture the skin in order to restore health and enhance general function.

Skin disorders include acne, dermatitis, blackheads, psoriasis, eczema, dandruff, scabies, scaled head, seborrhea, vitiligo; rheumatological conditions include alkalosis, arthritis (cysteine patients with arthritis), rheumatoid arthritis, psoriatic arthritis, back pain, bursitis, neuralgia, fibrosis, osteoarthritis, polyarthritis, spondylosis, and tendonitis, as well as hair falling and balding, breast firming, constipation, diarrhea, dyspnea, insomnia and fatigue, impotence, intestinal parasites, stress, sciatica, sluggishness, tinea, and worms.

WRINKLING:
Wrinkling is the result of a number of factors: accumulated exposure to the sun, heredity, and a weakening of elastin and collagen, which is part of the aging process. Elastin is responsible for the skin's flexibility. The protein fibers known as collagen provide physical support for the skin. (Loss of collagen is more common in women than in men. The skin's natural fatty layer also reduces with age, causing the skin to sink inward. Added to all these factors is the constant pull of gravity, which increases the sagging of the skin.

Research into the benefits of minerals from Dead Sea salt has shown a 40% reduction in the depth of the wrinkling.